"Jordan Peterson is, after all, a believing Christian."
It is with these words that Greg Sheridan begins a long report, published last week in The Australian, about Peterson's brainchild—the Alliance for Responsible Citizenship—whose inaugural conference was recently held in London.
Could Sheridan's hopeful declaration about Peterson be true?
Photo: Jordan Peterson and Mt Athos – Orthodox Christian Monastary near Greece
"For millions of people around the world this will be a powerful revelation, for others a long anticipated confirmation, devoutly to be wished," Sheridan writes.
He calls Peterson's apparent conversion to Christianity "the most striking thing I learn[ed] in a long discussion with Peterson at one of the most remarkable and distinctive conferences I've attended".
Committed to seeing a revival of Australia's Christian values in the public sphere, Australian Christians is always eager to document and celebrate the stories of public figures who are positively impacted by the teachings of Christ.
Jordan Peterson hardly needs an introduction, though Greg Sheridan's summarises the man well:
The Canadian psychologist, author and speaker is a unique cultural phenomenon. He is the highest selling Canadian author in history. He has an extraordinary appeal to young men. He's passionate, astonishingly intense, both in public presentations and private conversation.
Rumours that Jordan Peterson has come to personal faith in Christ have enjoyed frequent circulation.
Peterson is particularly well-known for his 'Biblical Series' lectures, which have served as a sort of psychological commentary on the Scriptures.
As Sheridan explains, Peterson believes that "Underlying all human meaning are the basic stories that people intuit, or understand, or tell themselves, or are told. And underlying everything in our civilisation, and perhaps more broadly, are the stories of the Bible."
Jordan Peterson also endured a serious, years-long health struggle, after which he sat for several interviews and spoke through tears of the impact the person of Christ has had on his life following that dark night of the soul.
Nevertheless, at other times Peterson has maintained a strongly Jungian perspective on the Christian faith, maintaining that its claims are psychologically true, while stopping short of affirming that Christianity is objectively true.
He has become famous for his dislike of the question, 'Does God exist?' and has often answered it with variations of, "I act as if God exists and I am terrified that He might."
Greg Sheridan is not the first person to assert that Jordan Peterson has crossed the threshold from an approval of Christianity to a wholehearted embrace of Christ.
Here is how Sheridan frames it:
But while Peterson has written at length and with great beauty of the narratives of the Bible, drawing millions of readers into a first relationship with the divine and the transcendent, up until now he has never quite committed to a definite answer on whether he believes in Christianity, believes in it not just as a helpful way to deal with the world but as a matter of simple truth. Here's a clue, though. Peterson's wife, Tammy Peterson, announced that she had enrolled in the Rite of Christian Initiation for Adults and would become a Catholic next Easter.
I had the opportunity of a lengthy private conversation with Peterson. It's a sign of the madness of our times that he has to have some security around him, and of course everyone wants to talk to him. But when I had the chance I asked him: "Do you yourself believe that Christianity is true, not just true in the sense that it gives us a helpful framework to understand how we function, but true that Christ is the son of God?"
Peterson answered: "I'm certain that it's true. I wouldn't claim to be able to explain what that means because I don't know what it means."
Later in our conversation, he says: "Full acceptance of the conditions of existence means the redemption of existence itself. I think this is true. Does that mean that Christ is the son of God? It might mean that, it seems to mean that, it probably does."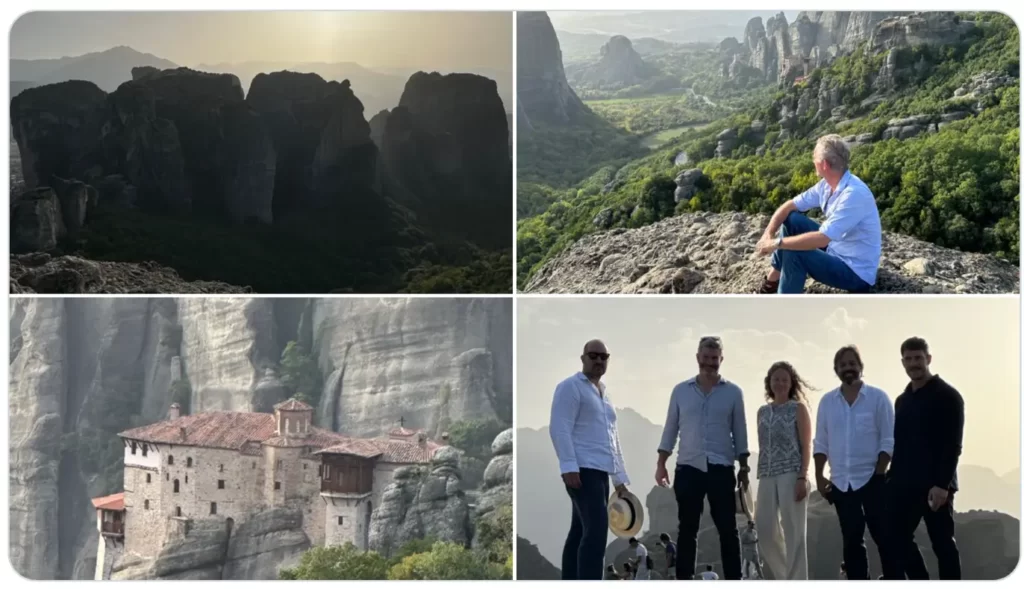 Photo:Jordan Peterson Exploring ancient Orthodox Christian sites in Greece
So has Peterson actually experienced a personal conversion? Sheridan's assessment still leaves room for doubt.
But as for the ARC conference Peterson hosted, there is much to be encouraged by. In the words of Sheridan:
Unusually for an international political conference, ARC celebrated Christianity a good deal, both as the source and inspiration of much Western culture, but also in its own right…
The traditional family, the virtue and joy of having children, received the kind of heavyweight intellectual support that has been almost completely absent, virtually a thought crime, in Western political discourse for decades…
The networking was jovial and intense. And there were lots and lots of young people. This had all the feeling of a movement with momentum. Watch out, woke, there's a different spirit abroad.
Australian Christians encourage believers to continue in prayer for Jordan Peterson and the many other public intellectuals who are promoting Christian values for the good of our societies.
In the meantime, on the home front, we will continue to champion the truths of Christianity ourselves, believing that a social, cultural and spiritual revival is more than possible if nations like Australia will return to the value systems that made our founding possible in the first place. Please join with us in this exciting endeavour.